Past Exhibition
it's not what you look at...it's what you see
Remi Ajani
15 Sep – 21 Oct 2023
it's not what you look at...it's what you see
Remi Ajani
Opening Reception: Thursday 14th September 2023, 6-8pm
Exhibition text | An interview with Rose Davey
Download list of works
Sid Motion Gallery is delighted to host Remi Ajani's first solo exhibition at the gallery.
The New York Times, 'Art to see in London this Fall' by Farah Nayeri
Interview with Remi Ajani on Plinth, written by Sammi Gale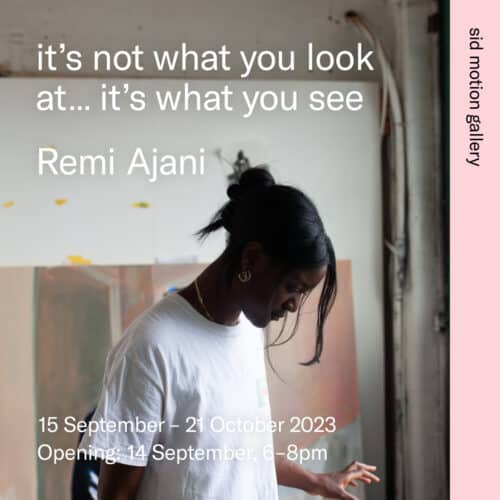 Artist Biography
Remi Ajani (b. 1984, London) lives and works in London. She graduated with a distinction from the Slade School of Fine Art, UCL (July 2022) where she was awarded the Almacantar Studio award for her degree show. Ajani's recent shows include; 'Abstract Colour', Marlborough Gallery, London, 2023; 'Greatest Source of My Longing', Galerie Barbara Thumm, Berlin, 2022; 'Same Same', Sid Motion Gallery, 2022; 'Why Don't You Dance?', ASC Gallery, London, 2022 and '(What now?)', PM/ AM, London, 2022. Ajani completed a residency at The Villa Lena Foundation, Tuscany, Italy in June 2023.